With new heightened restrictions throughout NSW, B-Sealed's office is closed to walk-in customers. However, our warehouse is still open for despatches and deliveries. This may impact or delay your orders, but rest assured we are working our best to lessen any impact.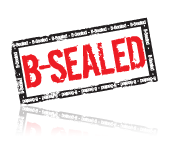 Description
The UnoLock 2 is the ideal seal for sealing shipping containers. With a pull load of 1,000kg, matching seal and pin numbers and tamper evident pin coating, the UnoLock is a very high security barrier seal.
Applications
Shipping containers bound for US
Trucks
Rail freight
Key Features
Seals are ISO/DIS 17712.2 compliant
Meets UK & US Customs and Border Protection requirements.
Total seal number encapsulation with non-rotatable pin insertion
Matching seal number on pin and barrel for tighter security control
Entire plastic enclosure for the barrel and pin is made of hard durable SAN plastic to reveal evidence of any attempts at tampering
Hardened steel locking mechanism is enclosed in a heavy-duty plastic barrel
All material components are zinc coated to protect against environmental attack
Specifications
Can withstand a pull load of minimum 1,000kg
Suitable for temperatures ranging from -40°C to 110°C
| | product code | barrier diameter | locking distance | locking diameter | pin diameter | shop link |
| --- | --- | --- | --- | --- | --- | --- |
| UnoLock 2 | UL807B | 24.8mm | 52mm | 20mm | 8.5mm | |
This product is currently end-of-line or discontinued. We recommend
EnaBolt 1a
as an alternative.
Need help with choosing which type of seal? Chat with us or check out our comparison table:
Compare now
Site and its contents © B-Sealed Pty. Ltd.