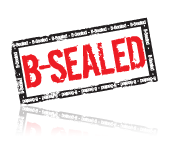 Description
B-Sealed is proud to include our food delivery seals into our tamper evident labeling solution offering. It is designed to securely seal delivery, catering, and takeaway food orders. Available in various sizes, and markings.
X-Safe Tamper Evident Total-Transfer Labels are self-adhesive labels that void themselves when removed. A clearly visible void message appears upon peeling the label. An adhesive layer with a void message is left behind on the surface to show evidence of tampering. The adhesive layer may be cleaned off on some surfaces to allow reuse of the sealed object. The security label also exhibits the void message to prevent the reuse of the label. By leaving a void message on the surface, recipients will know that the object has been accessed and tampered with.
Applications
Food delivery, catering, and takeaway
Kitchen
Retail shops, and department stores
Customisations
Colour
Logo printing
Markings
Serial numbers
Barcodes & QR codes
Minimum order quantity required.
| | size | shop link |
| --- | --- | --- |
| X11040TT | 110mm x 40mm | |
| X16538TT | 165mm x 38mm | |
| customised sizes | please enquire | |
Need help with choosing which type of seal? Chat with us or check out our comparison table:
Compare now
Site and its contents © B-Sealed Pty. Ltd.