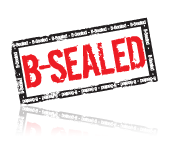 Description
The CableSeal EX brings the simplicity of the CableSeal, but strengthening the integrity of the seal with an additional encapsulation to protect the information on cableseal body. The wires are also made from stainless steel also increases corrosion resistance.
Applications
Shipping containers
Trucks
Rail freight
Utility meters & valves
Plastic distribution boxes
Valves in petrochemical industry
Recycled water taps
Car seal
Key Features
Cables are made from stainless steel cable and will splay upon cutting thereby preventing rejoining.
Body is made from corrosive resistant aluminium alloy.
Plastic transparent cover for increase tamper evidence.
Excellent resistance to corrosion in marine environments.
CableSeal 3.5 and CableSeal 5.0 are C-TPAT compliant and are ISO/PAS 17712:2013 "H" certified
Requires cable cutters to remove seals.
Specifications
Seals are anodized and then laser engraved with name, serial numbers and barcode for security
Standard cable length is 300mm, different cable lengths available on special request
Braided galvanised steel aircraft cable available on request.
Customisations
Various lengths
Colour
Logo printing
Other markings
Barcode, QR codes
Serial numbers
Minimum order quantity may be required.
| | product code | wire length | wire diameter | breaking strength | locking head dimensions | shop link |
| --- | --- | --- | --- | --- | --- | --- |
| CableSeal EX 1.5 | CS15EX300 | 300mm | 1.5mm | > 250kgf | 25mm x 25mm x 7.5mm | |
| CableSeal EX 3.5 | CS35EX300 | 300mm | 3.5mm | > 1,000kgf | 25mm x 25mm x 7.5mm | |
| CableSeal EX 5.0 | CS50EX300 | 300mm | 5.0mm | > 1,000kgf | 35mm x 35mm x 8.5mm | |
Need help with choosing which type of seal? Chat with us or check out our comparison table:
Compare now
Site and its contents © B-Sealed Pty. Ltd.