With new heightened restrictions throughout NSW, B-Sealed's office is closed to walk-in customers. However, our warehouse is still open for despatches and deliveries. This may impact or delay your orders, but rest assured we are working our best to lessen any impact.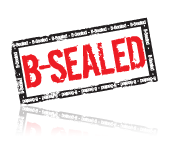 Description
With a breaking strength of 40kg, and lengths of up to 500mm, the Maxi-JawLock is the ultimate pull-tight seal.
It has the user-friendly smooth stem and high security embedded metal jaw, and has the option of a side tear-off for tool free removal.
Applications
Postal and Mail Order bags
Tanker valves
Key Features
A tensile strength of over 35kg
Side tear-off option for manual removal without a tool
Smooth stem is more user-friendly than conventional ribbed seals
Stainless steel spring locking-mechanism enhances security once applied
Gripping teeth provide positive grip on bags
Optional barcoding
Customisations
Colour
Logo printing
Other markings
Barcode
Serial numbers
Minimum order quantity required.
| | product code | stem length | stem diameter | tag size | shop link |
| --- | --- | --- | --- | --- | --- |
| Maxi-JawLock 300 | MX30 | 300mm | 4.0mm | 67.5mm x 30mm | |
| Maxi-JawLock 400 | MX40 | 400mm | 4.0mm | 67.5mm x 30mm | available |
| Maxi-JawLock 500 | MX50 | 500mm | 4.0mm | 67.5mm x 30mm | available |
Site and its contents © B-Sealed Pty. Ltd.