With new heightened restrictions throughout NSW, B-Sealed's office is closed to walk-in customers. However, our warehouse is still open for despatches and deliveries. This may impact or delay your orders, but rest assured we are working our best to lessen any impact.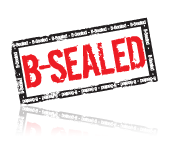 Description
Larger, thicker, stronger. The BagelSeal XL is similar to the standard BagelSeal, featuring a stainless-steel jaw and round stem.
The insertion point is clearly marked with deeply embossed instructions next to the point of entry to ensure that the seal is properly applied.
A smooth seamless design jaw chamber makes cuts from tampering easy to spot.
Applications
Domestic containers
Trucks
Bags
Boxes
Key Features
High breaking strength of 28kg-f
User friendly smooth pulling action for locking
Laser engraved at the factory for steadfast printing
Stainless steel jaw
Polypropylene body
Customisations
Colour
Logo printing
Other markings
Barcode, QR codes
Serial numbers
Minimum order quantity required.
| | product code | stem length | stem diameter | tag size | shop link |
| --- | --- | --- | --- | --- | --- |
| BagelSeal XL 330 | BGLXL-330 | 330mm | 4.0mm | 55mm x 25mm | |
| BagelSeal XL 430 | BGLXL-430 | 430mm | 4.0mm | 55mm x 25mm | |
Need help with choosing which type of seal? Chat with us or check out our comparison table:
Compare now
Site and its contents © B-Sealed Pty. Ltd.