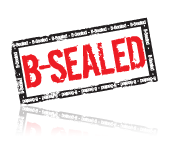 Description
The RotatoSeal is a crimp-free security seal ideal for sealing small locking holes. Application is intuitive so training is minimal. No costly investment of crimpling pliers because of its tool-free design.
Applications
Utility meters
Transport meters
Gas & fuel meters
Telephones
Utility boxes
Key Features
Made of polycarbonate for durability and impact resistance
Twisted metal wire provides tamper evidence while its nylon coating provides a user-friendly surface for ease-of-application
Transparent body allows visual inspection of the seal's locking mechanism to confirm proper application
Designed with a "lip" overlapping the rotating barrel to prevent prying - a ubiquitous tampering technique for these class of seals
0.7mm diameter stainless steel cable wire of 220mm length as standard
Customisations
Colour
Other markings
Serial numbers
Minimum order quantity required.
| | product code | wire diameter | wire length | tag dimension | barrel diameter | barrel height | shop link |
| --- | --- | --- | --- | --- | --- | --- | --- |
| RotatoSeal | RS22 | 0.7mm | 220mm | 9.5mm x 29mm | 19mm | 19mm (when twist tab is broken off) | |
Site and its contents © B-Sealed Pty. Ltd.