With new heightened restrictions throughout NSW, B-Sealed's office is closed to walk-in customers. However, our warehouse is still open for despatches and deliveries. This may impact or delay your orders, but rest assured we are working our best to lessen any impact.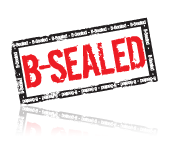 Description
Our ballot bags are designed to have two openings. One is a small slot for insertion of ballots, forms or small bags, while the other is a top cover which can flip open completely for easy access to the contents.
Each zipper can be secured individually depending on the situation. In its regular configuration the ballot bag's large grade zipper slider and eyelet combination allows the use of padlocks or pull-tight seals. Optionally the ballot bags can be factory fitted with our ZipLock enclosure which allows use of the more economical ZipLock security seals.
Externally accessed windows on the top and front provide unsecured pockets for slipping in notes and identification tags for reference. If the documents or tags require security, a third large window, located on the front, is only accessible from the inside.
The side walls and bottom are lined with nylon encapsulated board for reinforcement of wall rigidity. These are trimmed with velcro to make the inserts removable, allowing them to be flat packed for transportation.
The ballot boxes can be configured with buckle-fitted carry straps for ease of transportation when assembled.
Key Features
Mail slot on top
3 edge zipper opening to allow lid to flip completely open
Eyelet and slider configuration for padlocks and pull-tight seals
ZipLock enclosures may alternatively be fitted for ZipLock seal compatibility
Reinforced walls and bottom
Velcro trimmed wall inserts for easy of assembly and disassembly
Multiple externally accessed pocket windows for easy-access notes and documents
Single large internally accessed pocket window for secure notes and documents
Optional carry strap capable with installation of buckles on corners
| | product code | dimensions |
| --- | --- | --- |
| Ballot Bag | BB1 | 300mm x 300mm x 480mm |
Need help with choosing which type of seal? Chat with us or check out our comparison table:
Compare now
Site and its contents © B-Sealed Pty. Ltd.