We would like to let you know that B-Sealed is committed to the overall health and well-being of our customers and staff during these unprecedented times. We are making necessary adjustments to the way our business operates. This may impact or delay your orders, but rest assured we are working our best to lessen any impact.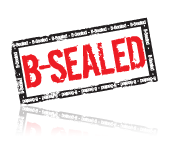 Description
The Universal pull up seal has round, smooth hand friendly tail and weather resistant metal jaw. Suitable for small seal openings with recommended hole diameter of 2.5mm. Unique consecutive numeric identification laser marked on the tag.
Customisation with corporate name or logo is available. Optional back labels can be pasted on documents to reduce human errors when recording down numbers.
Applications
Courier and postal bags
Tote boxes and security containers
Cash bags and bourier bags
Ballot boxes
Forensic evidence bags
Truck doors and side curtains
Key Features
Small diameter and smooth tail suitable for sealing small apertures
Made of high quality food grade polypropylene
Optional back labels
Specifications
Temperature resistance range -30°C to +40°C
Break strength 15kg-f
Customisations
Colour
Other markings
Back stickers
Serial numbers
Barcodes
Minimum order quantity required.
| | product code | stem length | stem diameter | tag size | shop link |
| --- | --- | --- | --- | --- | --- |
| Universal S 160 | UNIV160 | 160mm | 2.3mm | 40mm x 22mm | |
| Universal M 240 | UNIV240 | 240mm | 2.3mm | 40mm x 22mm | |
| Universal L 340 | UNIV340 | 340mm | 2.3mm | 40mm x 22mm | |
Site and its contents © B-Sealed Pty. Ltd.