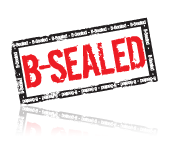 Description
The new and improved mini-JawLock type-R has enhanced tamper-resistant features. Featuring a smooth, slim diameter stem and a long tag that allows laser-marking of barcodes and QR codes. Stainless steel spring jaw and heat-stake cover caps for higher level of security. Tail keeper holes near the locking chamber provides a simple way to keep excess protruding tail from being a hindrance or safety hazard.
Applications
Airline food and duty free trolleys
Tote boxes and security containers
Cash bags and courier bags
ATM cassettes
Canisters and drums
Key Features
Small 2.0mm strap diameter is suitable for applications with small sealing apertures
Smooth strap is more user friendly than conventional strap designs
Heat-staking sealed cover cap
Tail keeper holes
Stainless steel spring locking mechanism enhances security once applied
Has an average break strength of 12kg (food grade polypropylene)
Long tag allows laser-marking of barcodes, serial numbers or QR codes
Customisations
Colour
Colour caps
Logo printing
Other markings
Barcode, QR codes
Serial numbers
Minimum order quantity required.
product code
stem length
stem diameter
tag size
shop link
Mini-JawLock 150 Type-R
MJ15R
150mm
2.0mm
35mm x 18mm
Mini-JawLock 150 LT Type-R
MJ15RB
150mm
2.0mm
50mm x 18mm
Mini-JawLock 200 Type-R
MJ20R
200mm
2.0mm
35mm x 18mm
Mini-JawLock 200 LT Type-R
MJ20RB
200mm
2.0mm
50mm x 18mm
Need help with choosing which type of seal? Chat with us or check out our comparison table:
Compare now
Site and its contents © B-Sealed Pty. Ltd.